Deepwood Diesel

TDIAOV



"Diesel" is a Certified Therapy Dog through Therapy Dogs International (TDI). He alternates Fridays visiting Perry Point Veterans Hospital and AI DuPont Children's Hospital. He also occasionally goes to a local nursing home to visit the Hospice patients and has visited a local elementary school to spend time with their special needs classes.

We are proud to announce that Diesel has earned his Therapy Dogs International Active Outstanding Volunteer certificate and can now display the title TDIAOV after his name. (150+ Therapy Dog Visits)

We think doing therapy dog work is an amazing experience and encourage you to read more about TDI's program below.



The use of dogs to help mankind is known throughout the world. The bond between dog and man dates back to early history, but it wasn't until recently that a correlation was acknowledged between this bond and the emotional health of humans. Now, researchers are beginning to confirm and document the effectiveness of dogs in a healthcare setting. Studies have shown that interaction with dogs can:

- lower blood pressure
- rehabilitate and promote relaxation
- relieve agitation, anxiety, and stress
- improve comunication between humans
- reduce the need for drug therapy in some cases
- draw out a person from loneliness and depression

The dogs bring sparkle to a sterile day, provide a lively subject for conversation, and rekindle old memories of previously owned pets. Four-footed therapists give something special to enhance the health and well-being of others.



Therapy Dogs International (TDI) was founded in 1976. TDI was formed so that dogs could be certified and registered as volunteer Therapy Dogs. All dogs and handlers are tested and evaluated by qualified and certified Evaluators. Dogs must pass the AKC Canine Good Citizen Test which involves:

- accepting a friendly stranger, showing no sign of resentment/shyness and not breaking position
- sitting politely for petting by a stranger
- will welcome being groomed and examined by a stranger
- walking, turning, and halting on a loose leash
- move about politely in pedestrian traffic without straining on the leash
- sit and down on command; staying in place
- coming when called
- behave politely around other dogs, showing no more than a casual interest
- confident when faced with common distractions
- will maintain its training and good manners without the owner present
- willingness of the dog to visit a person

Dogs must also pass additional TDI requirements, such as:

- acceptance of medical equipment such as a wheelchair, crutches, walker, etc.
- confident when exposed to people walking with an uneven gait, breathing heavily, wheezing, etc.
- leave-it: walk on a loose leash past food on the ground, ignoring it
- work well around all types of populations, including children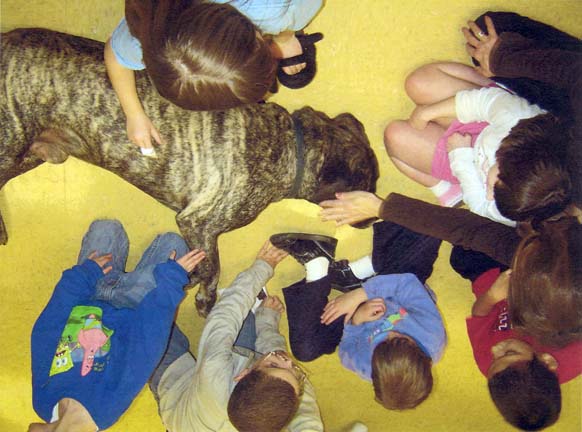 Below is from the Recreational Therapist at Perry Point Veterans Hospital:

I have had many Visiting pets come to the facility over my years here. Diesel is the most well behaved pet visitor I have ever had the pleasure to work with. He seems to be able to "read" the residents reaction to him and knows when to go up close and when to stay away. He loves to be patted and shakes hands readily.

I would recommend any population to have Diesel come and visit them. He is so gentle and friendly, he makes everyone feel loved!